One of our Instagram followers, @f00dventures, a Registered Dietitian with a passion for making "healthified" recipes created a Pumpkin Spice Low Carb French Toast Sticks recipe you'd love using the ThinSlim Foods Love-The-Taste Low Carb Bread.
Take a moment out of your day to drool:
---
Made Pumpkin spice french toast sticks for dinner because breakfast for dinner is always a good idea.
I used @thinslimfoods Bread to make the French toast sticks then dipped them in a homemade date caramel after cooking which tasted fan-frickin-tastic with the pumpkin recipe for the french toast sticks!
Pumpkin Spice French Toast Sticks
Ingredients: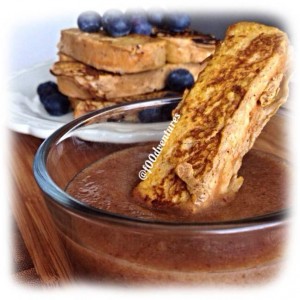 Makes ~12 french toast sticks
2 eggs
1/4 cup pumpkin puree
1 tsp cinnamon
2 tsp liquid sweetener of choice (I used pure maple syrup)
1 tsp vanilla
2-3 slices of ThinSlim Foods Love-The-Taste Low Carb Bread cut into strips
Directions:
1. Combine first 4 ingredients and mix until well combined.
2. Cut your bread into strips and dunk in the egg mixture.
3. Cook strips on a skillet a few minutes on each side.
4. Dunk in date caramel.
Find other f00dventures stuff here: f00dventures.wordpress.com
Enter your email to get 25% off of our Sampler Pack today
Stick to your diet while you indulge and save
Sampler Pack Includes:
Almond Square - Blueberry Muffin - Brownie
 Caramel Cookie - Impastable - Dressing - Cloud Cake
Biscuits - Love-the-Taste Plain Bread